Thermosiphon Vacuum Tube Solar Water Heater
| | |
| --- | --- |
| Categories | Unpressurized Solar Water Heater |
| Album | View larger image |
| Brand | Inlightsolar |
| Model | ILNF |
| Type | Evacuated Tube |
| Pressure | Unpressurized |
| Circulation Type | Direct / Open Loop (Active) |
| Heating System | Thermosyphon (Passive) |
| Connection Type | Direct-Plug |
| Installation | Freestanding |
| Housing Material | Stainless Steel |
| Certification | CE, SGS,GMC(TUV),ISO |
| Capacity | 300 |
| Application | Shower |
| Outer shell | SUS 304-BA |
| Inner tank | SUS 304-2B |
| Bracket | Aluminum alloy |
| Control | Automatically by controller or assistant tank |
| Tank capacity | 90 - 300 liters |
| Unit Price | US $ 200-300 / set |
| Update Time | 2019-01-22 |
Detail Information
Specification of Thermosiphon Vacuum Tube Solar Water Heater
Thermosiphon Vacuum Tube Solar Water Heater    is the most economical system with high efficiency at the same time.It works depending on the gravity of water,so it's much better to be installed on the roof as top as possible to get enough hydraulic pressure.A simple assistant tank can be equipped for tap water refill automatically or with an controller to control the startup of auxiliary heating device at the same time.   
Technical Parameters: 
  Vacuum tube
 Spec.(mm)
   Φ58×1800    Φ47×1500   
 Tube (pcs)
  15 / 16 / 18 / 20 / 24 / 30 / 36
 Material
  Borosilicate glass, magnetron spluttering selective coating
 Coating
  AL/AL-ALN(H)/AL-ALN(L)/ALN or Cu/SS-ALN(H)/SS-ALN(L)/ALN
  Water tank
 Capacity
  100 ~ 400L for inner water tank
 Inner tank
  Food-grade stainless steel SUS304-2B
 Insulation
  Imported polyurethane integrated foam-forming 50mm
 Tank shell
  Stainless steel plate SUS304-BA
  Bracket
 Spec.(mm)
  1.2 ~ 1.5mm in thickness
 Material
   Aluminium alloy plate
  Accessories
 Stainless bolts & nuts, Silicon rubber seal, Dustproof rubber seal, Plastic pipe holder
  Optional device
 Electrical heater, Intelligent controller / Assistant tank, Anod magnesium bar
  Tilt  angle
 25°~ 50°
  Water output
 45-95oC
  Hail resistance
 Φ25mm
Features description:
1.Vacuum tube: Hail-resisting borosilicate glass with high-tech selective coating ensures an efficient solar collecting, tri-target vacuum tube with its patent interference coating makes the efficiency not only improved by 12% but also with a high temperature resistantce (380°C).
 2.Inner water tank: Food-grade stainless steel SUS304-2B as inner tank keeps the water clean and drinkable, together with advanced welding technics to ensure it with a long lifespan (15 years).
 3.Water tank shell: Stainless steel same with inner water tank as outer shell is much more durable and super in anti-erosion aspect, much more durable even to ocean coast weather.
 4.Insulation Layer: Germany-imported polyurethane integrated foam-forming with twice slaking treatment, preserves hot water constantly as long as 70~80 hours.
 5.Supporting Bracket: Aluminum alloy as bracket with a good weight bearing and high wind resistance design (140 km/hr), super mechanical performance and corrosio resistance ensures a long life to ocean coast, easy installation, universal bracket suitable for either flat or slope roof installation.
Optional Devices 
1.Assistant tank, to automatically feed tap water into storage tank to keep it sufficient always
2.Electrical heater, as an auxiliary heating element in case of raining or snowing days so as to ensure a continous hot water supply
3.Intelligent controller, automatically controls water refill and startup of auxiliary heating device, more intelligent operation
4.Booster Pump, a choice for those area without tap water or with an unstable water supply
Warranty: 5 years international responsibility for integrated Solar Energy Heater system and 15 years for glass vacuum tubes due to original quality problems
Principle of  Thermosiphon Vacuum Tube Solar Water Heater:
1. Non-pressurized vacuum tube solar water heater consists of vacuum tube,solar tank and bracket.
2. As the specific gravities of hot water and cold water are different, cold water goes downward and hot water goes upward. 
3. When cold water in evacuated tubes is heated, it becomes lighter and goes to the water tank, while cold water in the tank goes down to the evacuated tubes 
4. Through this circulation, the cold water in the water tank will be gradually heated.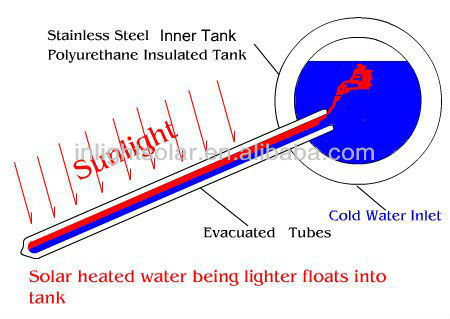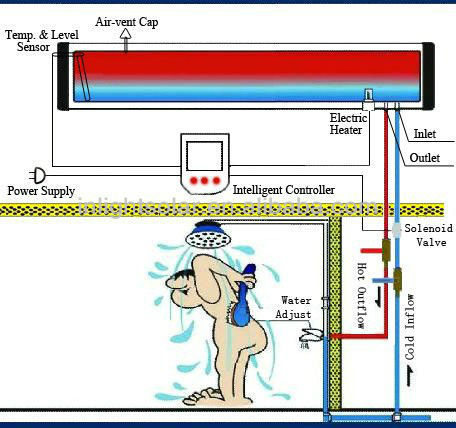 Pictures of Vacuum tube Solar Water Heater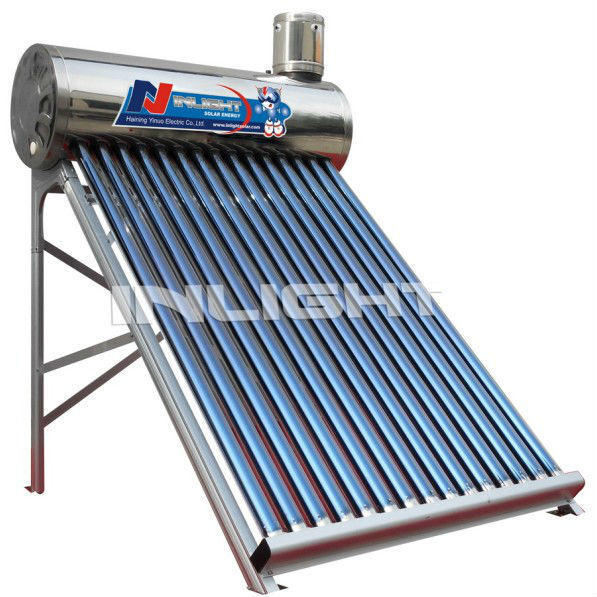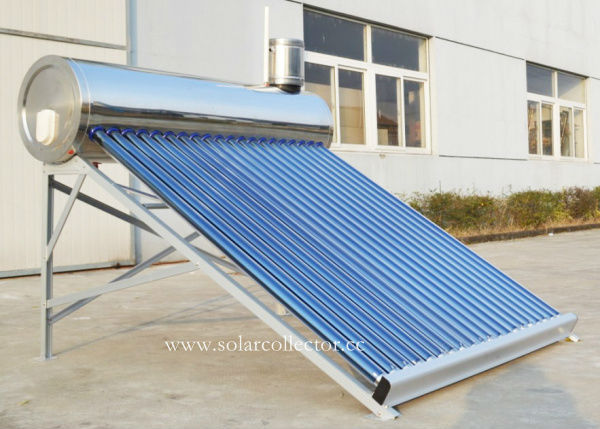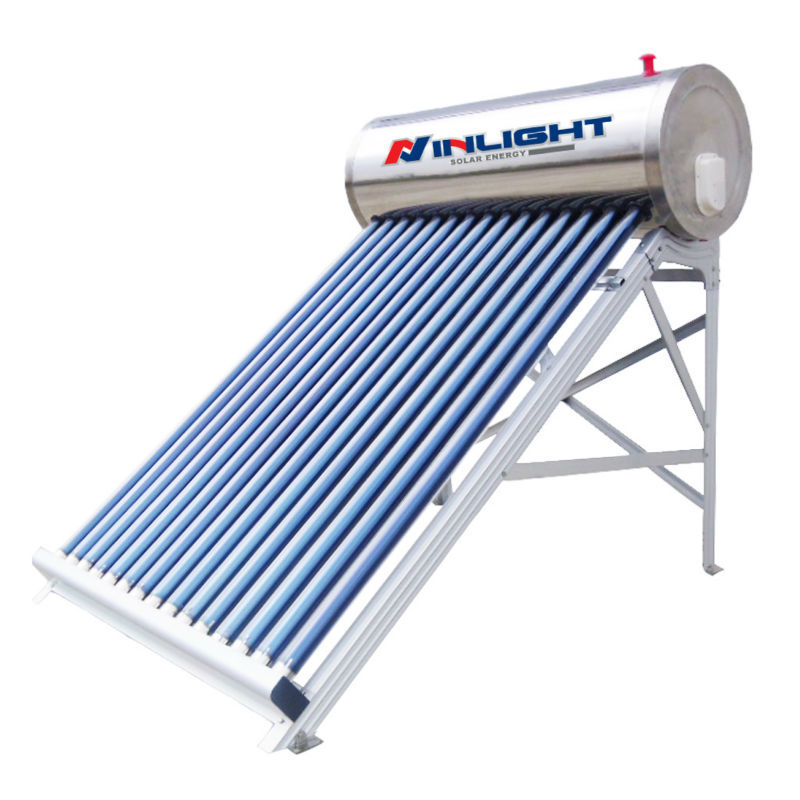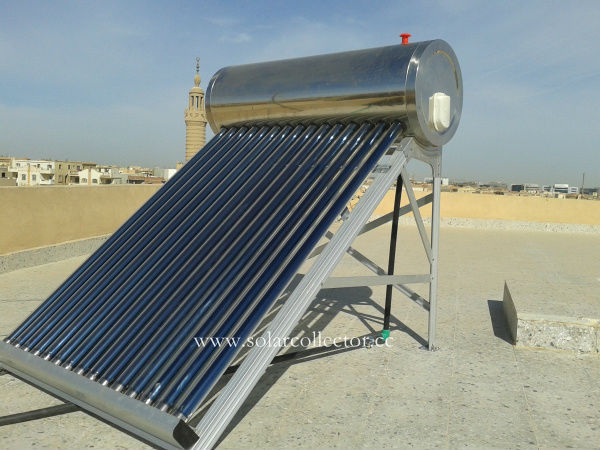 Models for selection:
Usually 50Liters hot water is need for one person's shower.
Model Number
Solar Vacuum Tube
Aperture
Area/m2
Storage Tank Capacity/L
Container Loading Sets
Number
Size/mm
20GP
40GP
40HQ
ILNF-5818A460S-12V
12
Φ58 X 1800
1.13
100
   58
119
140
ILNF-5818A460S-15V
15
Φ58 X 1800
1.41
130
54
108
131
ILNF-5818A460S-18V
18
Φ58 X 1800
1.70
150
  43
86
105
ILNF-5818A460S-20V
20
Φ58 X 1800
1.89
170
40
80
97
ILNF-5818A460S-24V
24
Φ58 X 1800
2.26
200
35
70
85
ILNF-5818A460S-30V
30
Φ58 X 1800
2.83
250
28
56
68
ILNF-5818A460S-36V
36
Φ58 X 1800
3.39
300
23
47
57
Looking forward to work with you hand in hand to make a bright future. Any Problem, feel free to contact, we are just a click of the mouse away from you.

Please send your message to us
*We will reply your inquiry to this Email as soon as we see it