Customized Stainless Steel Solar Hot Water Heater(for domestic use)
| | |
| --- | --- |
| Categories | Integrated Pressure Solar Water Heater |
| Album | View larger image |
| Brand | Inlightsolar |
| Type | Vacuum tube with copper heat pipe |
| Pressure | Pressurized |
| Circulation Type | Indirect / Closed Loop (Active) |
| Heating System | Thermosyphon (Passive) |
| Connection Type | Direct-Plug |
| Installation | Freestanding |
| Housing Material | Stainless Steel |
| Certification | CE, GS, RoHS, ISO 9001:2008,SRCC,Solar Keymark,INMETRO,SGS |
| Capacity | 300 |
| Application | Domestic hot water |
| Water capacity | 100L - 300L |
| Solar collector type | Tubular collector |
| Inner tank | SUS304-2B or 316 stainless steel |
| Insulation layer | Imported high density polyurethane |
| Absorptive coating | Cu-SS-ALN/AIN |
| Absorption rate | 0.92-0.95 |
| Heat emission rate | 0.04-0.06 |
| Unit Price | US $ 200-800 / set |
| Update Time | 2019-01-23 |
Detail Information
Stainless Steel Solar Hot Water Heater Maufacturer,good at making customized system
Feature:
1. Using vacuum tube copper heat pipe solar collector,very high heat efficiency.
2. No water in vaccum tube when it works,even one or two vacuum tubes broke, the system can work normally.
3. It has perfect frost resistance performance, works well even in very cold places,such as Russia,Sweden,Mongolia.
4. Bearing high pressure(Max 7 bar),it can be connected with high pressure city tap water system.
5. Installation is freestanding,no limitation on installation location.
6. Easy installation and free maintenance.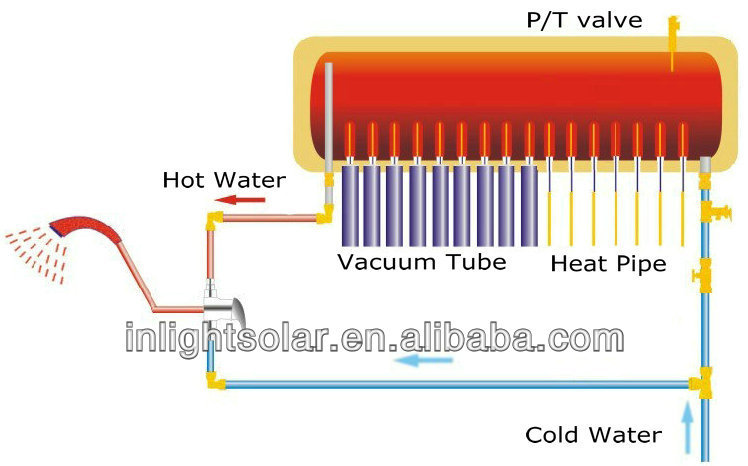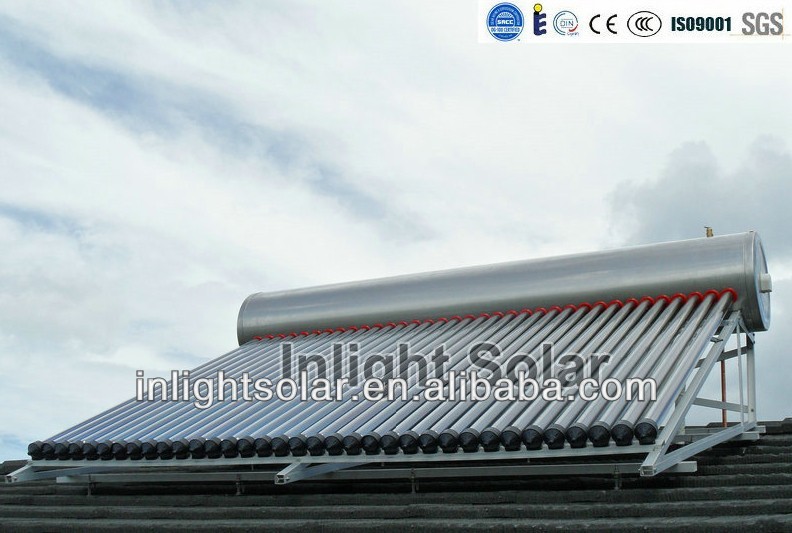 Specifications for Stainless steel series:
Item No.
Solar Vacuum Tube
Storage Tank
Insulation
Packing
Container Loading
Qty / Pcs
Size / mm
Capacity (L)
mm
cbm/set
20GP
40HQ
ILH-5818A470S-10H
10
Φ58*1800
90
55
0.39
72
174
ILH-5818A470S-12H
12
Φ58*1800
100
55
0.46
61
148
ILH-5818A470S-15H
15
Φ58*1800
130
55
0.56
50
121
ILH-5818A470S-18H
18
Φ58*1800
150
55
0.68
41
100
ILH-5818A470S-20H
20
Φ58*1800
170
55
0.75
37
91
ILH-5818A470S-24H
24
Φ58*1800
200
55
0.86
33
79
ILH-5818A470S-30H
30
Φ58*1800
250
55
1.1
25
62
ILH-5818A470S-36H
36
Φ58*1800
300
55
1.26
22
54
1. Inner tank: Food-grade stainless steel SUS304-2B 1.2mm -1.5mm
2. Tank Exterior Shell: High-quality stainless steel SU201/202 or SUS304 0.4mm
3. Heat Insulation: High-density polyurethane integrated foam-forming insulation layer
4. Vacuum Tube: Red copper heat pipe, three-target glass tube, aluminium fin and heat-resisting silicon seal
5. Bracket: Aluminium alloy/ Stainless steel, universal bracket suitable for slope and flat roof installation
6. Optional Devices:Electric heater, Intelligent Controller, Anode magnesium bar,Reflector
7. Accessories:T/P & Safety valve, Stainless bolts & nuts, Dustproof rubber seal, Adjustable plastic tube holder
8. Rated Working pressure: 6.0 Bar
9. Angle of bracket:  25°-50°
10. Anti-freezing: > -40°C
Please send your message to us
*We will reply your inquiry to this Email as soon as we see it