Integrated pressurized solar water heater
| | |
| --- | --- |
| Categories | Integrated Pressure Solar Water Heater |
| Album | View larger image |
| Brand | Inlightsolar |
| Model | ILH-58A18S-18H |
| Type | Evacuated Tube |
| Pressure | Pressurized |
| Circulation Type | Indirect / Closed Loop (Active) |
| Heating System | Thermosyphon (Passive) |
| Connection Type | Direct-Plug |
| Installation | Freestanding |
| Housing Material | Stainless Steel |
| Certification | CE |
| Capacity | 150 |
| Optional capacity | 100-400Liters |
| Optional material of out tank | white color steel and fluorocarbon steel |
| max output water temperature | 98 degree centigrade |
| Unit Price | US $ 250-600 / set |
| Update Time | 2019-01-23 |
Detail Information
Integrated pressurized solar water heater
Technical Parameters
     Heat  Pipe

  Vacuum Tube

 Spec.(mm)

  Φ47×1500    Φ58×1800 

 Tube (pcs)

  14 / 16 / 18 / 20 / 24 / 28 / 30 / 36

 Material

  Borosilicate glass, red copper heat pipe tube, aluminum fin

 Coating

  Three-target Cu/SS-ALN(H)/SS-ALN(L)/ALN coating

  Water tank

 Capacity

  100 ~ 300L for inner tank

 Inner tank

  Food-grade SUS304-2B stainless steel 1.2~1.5mm

 Insulation

  High-density polyurethane integrated-foaming 50mm

 Tank shell

  Stainless steel plate SUS304

   Bracket

 Spec.(mm)

  1.2mm in thickness

 Material

 aluminum alloy

   Accessories

 Stainless bolt, Dustproof rubber seal, Plastic pipe holder

 Optional device

 Electrical heater , Intelligent controller, Anod magnesium bar, T&P valve

Working pressure

 6 bar

    Tilt  angle

 25°~ 50°

   Water output 

 45-95oC

  Hail resistance

 Φ25mm diameter
Features description of pressurized solar water heater
1) Quick startup and super efficiency ,Copper heat pipe tube and inner medium for thermal transmission
2) Stable system can also run withdrawal of some tubes, No water flows into vacuum tubes
3) Less heat loss,Super efficiency of insulation with polyurethane foam
4) Can work in high pressure up to 6 bar. can be connected directly with tap water, more safe system and comfortable hot water use.
5) Can work well in extremely cold climate
 Parts specification
Heat Pipe Vacuum Tube: Three-target galss tube, aluminum fin and heat pipe with its inner medium together makes an efficient solar collecting device for heat exchange, efficiency generated about 55% in summer and 42% in winter more than that of all-glass vacuum tube.
Inner water tank: Thickened food-grade SUS304-2B stainless steel as storage tank keeps the water clean and drinkable, advanced automatic argon-arc welding technics ensures a very long lifespan (more than 30 years)
Water tank shell: stainless steel SUS304 as outer shell, much more durable and appealing with super mechanical performance, and survives several decades to ocean coast envirionment.
Insulation Layer: High-density polyurethane integrated foam-forming with twice slaking treatment
Supporting Bracket: Stainless steel or aluminum alloy plate, super weight bearing and wind resistance design (140 km/hr), super mechanical performance and corrosion resistance ensures a long life to acid rain. easy installation, universal bracket suitable for either flat and slope roof installation
Accessories: Safety valve and relief valve, Stainless bolts & nuts, anti-aging dustproof rubber seal, plastic pipe holder to ensure their lives as long as other parts of the system

Optional Devices:
Electrical heater, as an auxiliary heating element in case of raining or cloudy days so as to ensure a continous hot water supply
Intelligent controller, automatically controls startup and ceasing of auxiliary heating device with temperature sensor, more intelligent operation
Anod magnesium bar: Soften hard water in system so as to protect the storage tank from water scale
Warranty:  
3 years international responsibility for integrated system exchange and 15 years for vacuum tube compensation due to original quality problems
Photosof pressurized solar water heater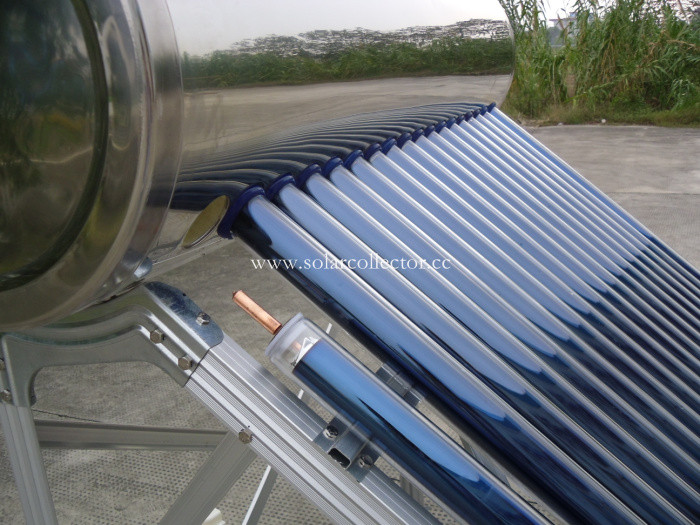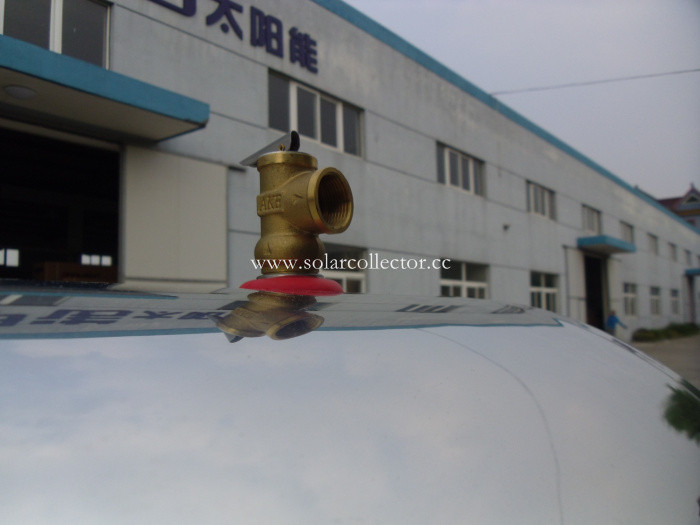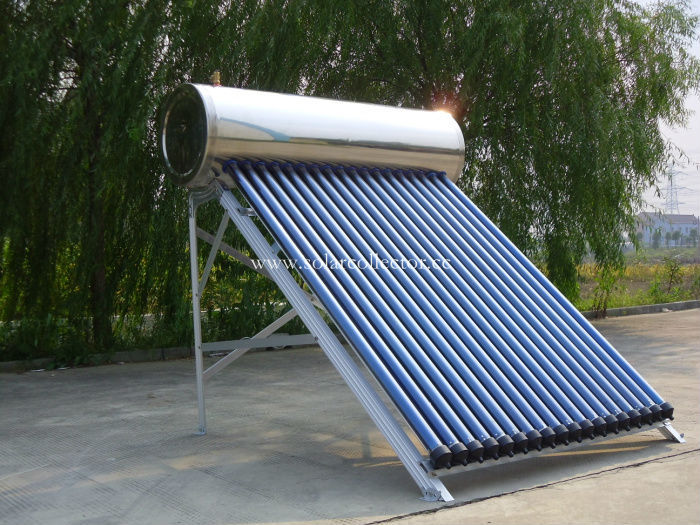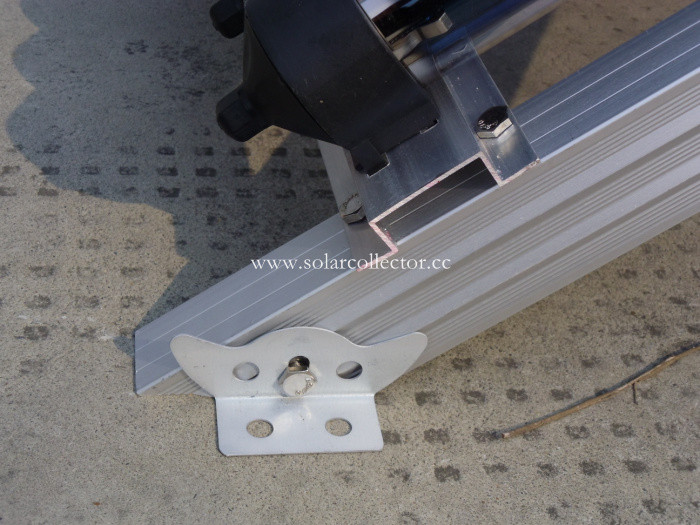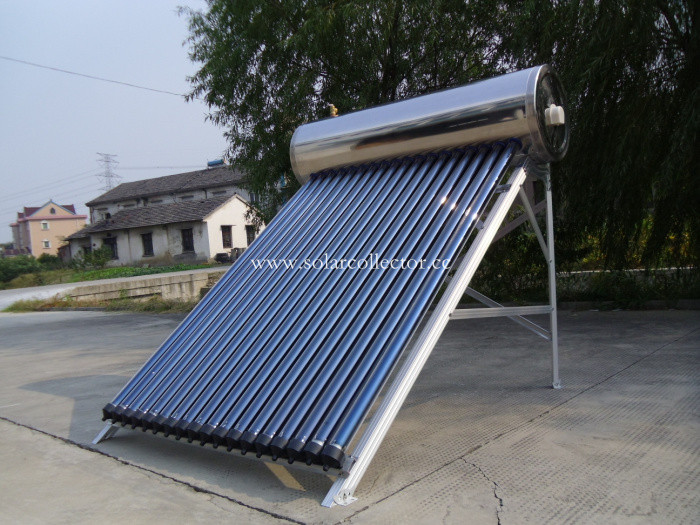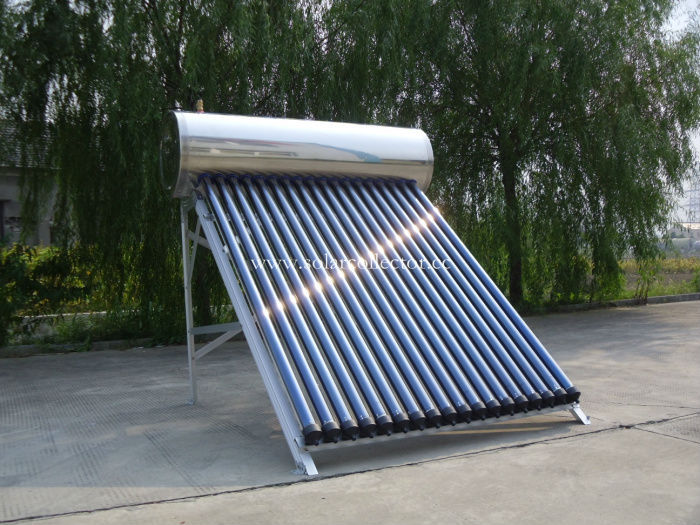 Models for selection:
Usually 50Liters hot water is need for one person's shower.
Item No.
Solar Vacuum Tube  
Storage Tank Capacity (L)
Insulation (MM)
Container Loading Sets
Quantity / Pcs
Size / mm
20GP
40GP
40HQ
ILH-5818A470S-10H
10
Φ58*1800
90
55
72
144
174
ILH-5818A470S-12H
12
Φ58*1800
100
55
61
122
148
ILH-5818A470S-15H
15
Φ58*1800
130
55
50
100
121
ILH-5818A470S-18H
18
Φ58*1800
150
55
41
82
100
ILH-5818A470S-20H
20
Φ58*1800
170
55
37
75
91
ILH-5818A470S-24H
24
Φ58*1800
200
55
33
65
79
ILH-5818A470S-30H
30
Φ58*1800
250
55
25
51
62
ILH-5818A470S-36H
36
Φ58*1800
300
55
22
44
54
Looking forward to work with you hand in hand to make a bright future. Any inquiry, feel free to contact, we are just a click of the mouse away from you.

Please send your message to us
*We will reply your inquiry to this Email as soon as we see it