Copper coil pressure solar water heater
| | |
| --- | --- |
| Categories | Copper Coil Pressurized Solar Water Heater |
| Album | View larger image |
| Brand | Inlightsolar |
| Type | Evacuated Tube |
| Pressure | Unpressurized |
| Circulation Type | Indirect / Closed Loop (Active) |
| Heating System | Thermosyphon (Passive) |
| Connection Type | Direct-Plug |
| Installation | Freestanding |
| Housing Material | Stainless Steel |
| Certification | CE, GS |
| Capacity | 200 |
| USA | BATHROOM |
| Unit Price | US $ 300-400 / set |
| Update Time | 2019-01-23 |
Detail Information
Work principle:
The water in water tank is for heat preservation and circulation. The vacuum tube collector absorbs sunshine to heat the water in water tank, when using the hot water, the cold water flows through the inlet, the copper coil absorbs heat then transfer to the cold water, so that temperature rise up ceaselessly, due to the original feature of the copper coil, the water temperature of the outlet is close to the water temperature of water tank(difference within 3 degree centigrade). Therefore, cold water flow via copper coil and absorbs much heat, when water flow past outlet, the temperature is usally hot enough to use.
Specification:
1. Water tank: Anti-corrosion SUS304-2B Food Grade stainless steel plate(0.4mm), tank capacity:60-350L, Red copper coil inside tank as heat exchanger.
2. Outer shell: Anti-corrosion galvanized color steel plate(0.4mm) /SUS304-AB stainless steel plate(0.4mm)
3. Bracket: Anti-corrosion galvanized color steel plate ( 0.4mm) /Aluminium alloy profiled bar (1.5-2.0mm)/ SUS304-AB stainless steel plate(1.0mm)
4. Tank insulation: Polyurethane integral foaming, 55-60mm thickness
5. Heat preservation time: 80 hours
6. Wind resistance: 30-35m/s, Hail resistance:25mm
7. Working temperature:-20~250 degree centigrade
8. Working pressure: 0.6 Mpa
9. Usual vacuum tube dimension: D47x1500mm/ D58*1800mm
10.Dual-purpose bracket for both flat and sloping roof, and with different angle for different countries. Operation and installation documents are free.
Application area:
Good solution for areas where people have demand for good water quality
For cold areas people have a large demand for hot water
Places where there is daily needs of hot water
Feature:
1. It can withstand pressure of tap water when it works, and copper coil in tank bear pressure.
2. Storage tank is used to heat water flowing through copper coil, water absorbs much heat when flowing through the copper coil, hot water is available immediately when you need.
3. High quality SUS304-2B stainless steel for water tank, processed by argon arc welding technique, under strict quality control system, tank will never rust and leak.
4. High borosilicate all glass vacuum tube has selective absorbing surface, absorptivity above 0.93 and emissivity below 0.05, it enables vacuum tubes to have good absorb and transmit performance.
5. Relevant accessories are optional instead of compulsory, client can choose some or none according to actual need.
6. It can produce hot water with constant temperature.
7. Its indirect solar system, so water quality is superior, much cleaner than direct solar system.
8. Time of uploading water is cut, 24 hours water supply on condition that pipeline is working.
9. Life duration: 15 years, warranty: 5 years
10. CE, ISO9001, CCC,EN12976 approved
11. OEM,ODM offered.
12. To serve Europe, America, Africa clients better, at work in Europe work time.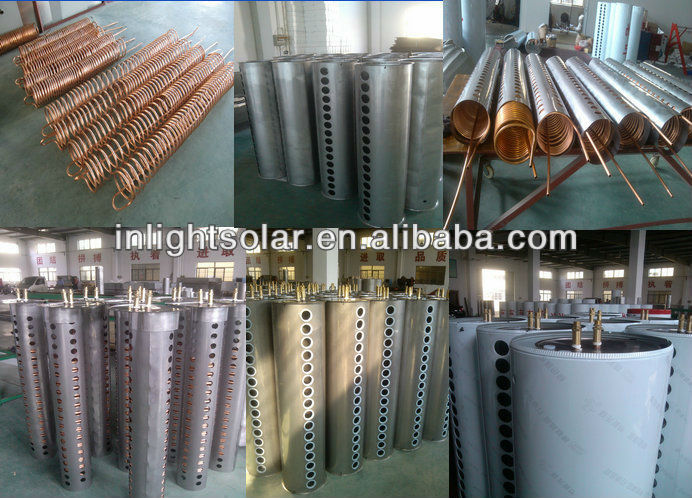 Please send your message to us
*We will reply your inquiry to this Email as soon as we see it