Compact pressurized Flat plate solar water heater
| | |
| --- | --- |
| Categories | Integrated Unpressurized Solar Water Heater |
| Album | View larger image |
| Brand | Inlightsolar |
| Model | ILF-01 |
| Type | Flat-Plate |
| Pressure | Pressurized |
| Circulation Type | Indirect / Closed Loop (Active) |
| Heating System | Thermosyphon (Passive) |
| Connection Type | Direct-Plug |
| Installation | Freestanding |
| Housing Material | Silver fluorocarbon (PVDF) plate |
| Certification | CE, ISO9001 |
| Capacity | 300 |
| Flat panels size | 2000*1060*80 |
| Working Pressure | 6.0 Bar |
| Application | Domestic & residence community |
| Unit Price | US $ 500-1,000 / set |
| Update Time | 2019-01-23 |
Detail Information
Flat plate solar water heater
Features:
1. Especially for large-scale hot water heating system, supplying hot water for apartments, hotels, restaurants, schools, hospitals, factories, swimming pools, and other places requiring large amount hot water use.
2. Very economical and of good performance for a 15 years lifespan
3. Adaptable to different architecture structure installation
4. Anti-freezing system with good insulation to the pipelines
5. Easy installation and connection of solar collectors and pipelines
6. Able to be disigned to work with axuiliary heating devices to assist solar water heating
Flat plate solar water heater
Technical Parameters:
Flat Plat Solar Collector

Spec. (mm)

2000*1060*70    2000*1060*80    

Cover glass

Tempered/ Tempered woven / tempered low-iron woven glass

Coating

Black Chrome

Core

All red copper core & headers and risers

Insulation

Glass wool + benzene plate/ Glass wool + polyurethane foam

Pressurized Water tank

Capacity

100 - 300L

Inner tank

Food-grade stainless steel plate SUS304-2B

Insulation

High-density polyurethane integrated foam

Tank shell

Silver fluorocarbon (PVDF) plate

Bracket

Material

Hot-dip galvanized steel plate

Tilt angle

20Tolerance - 50Tolerance

Accessories

Copper connectors, Stainless bolts & nuts, vent cap

Optional device

Electrical heater, Intelligent controller,  Anode magnesium,T/P Valve

Water output

45-95Centigrade
Optional Devices:
Electrical heater, an auxiliary heating device with electricity to assist water heating in cloudy or rainy days, so as to ensure continuous hot water supply.

Intelligent controller, a device with sensor and electromagnetic valve for automatic water refill and temperature display, it can also be designed to control startup of auxiliary heating device for automatic water heating assistance.

Anode magnesium:In areas with hard water, this device can be installed in water storage tank to effectively prevent system from water scale.
Theory & Advantages:
INLIGHT integrated flat-plate solar water heater is non-pressurized and it is a kind of thermosiphon solar water heater, a thermosiphon solar system relies on warm water rising, a phenomenon known as natural convection, to circulate water through the collectors and to the tank. In this type of installation, the tank must be installed above the solar collector and the system should be installed as top as possible to give enough hydraulic pressure in hot water using points. As water in the collector heats, it becomes lighter and rises naturally into the tank above. Meanwhile, cooler water in the tank flows down into the solar collector, causing circulation throughout the system. The storage tank is attached to the top of the solar collector so that thermosiphoning can occur. INLIGHT integrated flat-plate solar water heater has many advantages in solar water heating applications such as:

1. INLIGHT flat-plate solar water heater is much economical device among all kinds of solar water heaters, at the same time with very efficient and stable performance;
2. INLIGHT flat-plate solar water heater has a very simple structure and it is very easy in installation and connecting with water pipelines;
3. The water storage tank of INLIGHT flat-plate solar water heater is made of food-grade stainless steel with advanced argon arc welding ensures no leakage and clean water, The insulation layer is made of high-density integrated polyurethane foam-forming with twice slaking treatment, ensures as long as 72~80 hours heat preservation
5. The supporting bracket of INLIGHT flat-plate solar water heater is adaptable to both flat and slope roof installation, it is designed for 140 km/hr wind load and can be customized to meet different latitude requirements;
6. Each set of INLIGHT solar water heater and its accessories are checked and selected carefully before packing and delivery to customers
7. According to different requirements and conditions, INLIGHT flat-plate solar water heater can be equipped with different optional devices for automatic and intelligent system operation.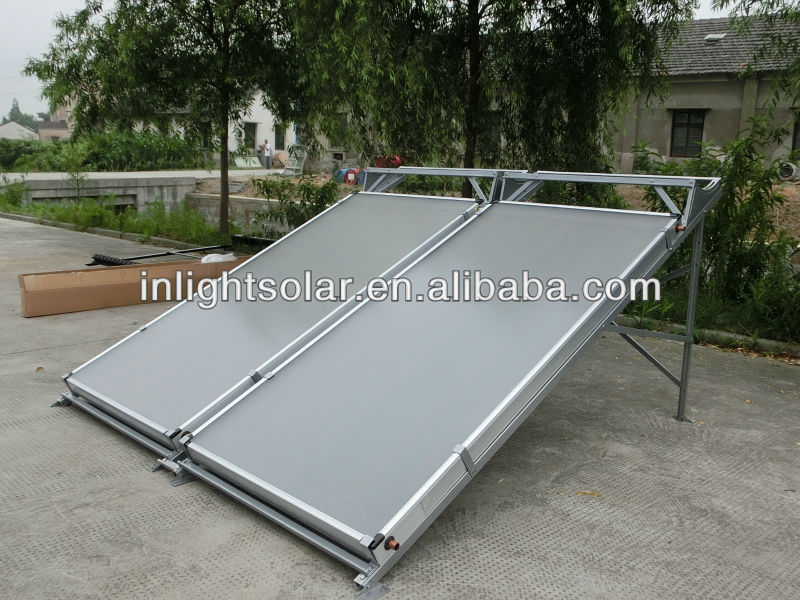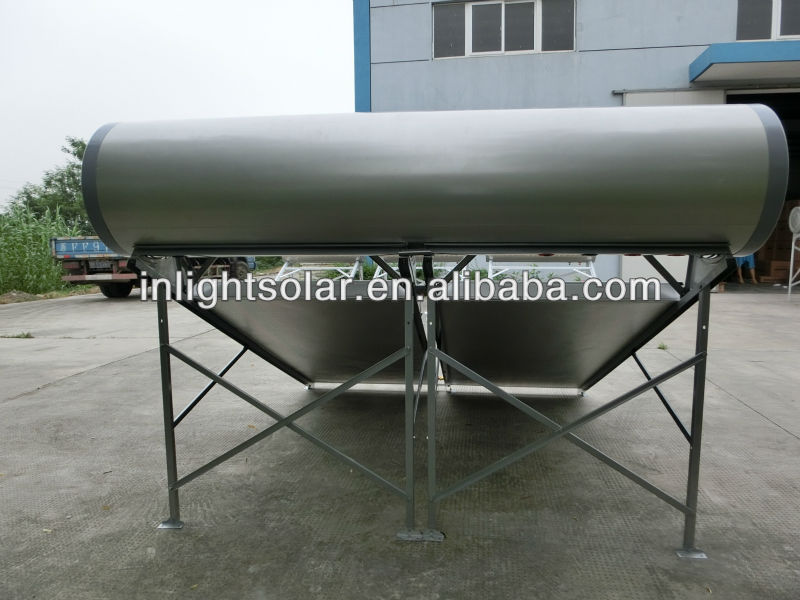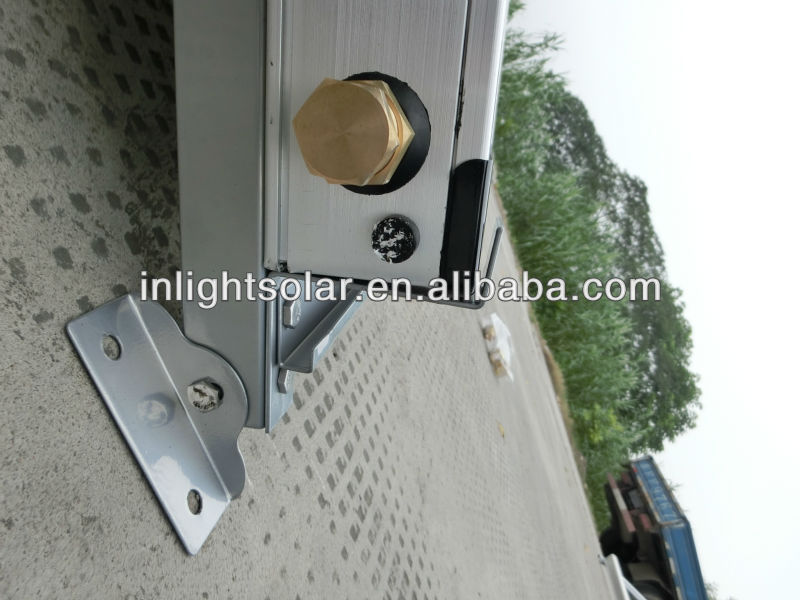 Please send your message to us
*We will reply your inquiry to this Email as soon as we see it