Integrated Pressurized Flat Plate Solar Water Heating
| | |
| --- | --- |
| Categories | Integrated Unpressurized Solar Water Heater |
| Album | View larger image |
| Brand | Inlightsolar |
| Model | ILP-F0401 |
| Type | Flat-Plate |
| Pressure | Pressurized |
| Circulation Type | Direct / Open Loop (Active) |
| Heating System | Thermosyphon (Passive) |
| Connection Type | Direct-Plug |
| Installation | Freestanding |
| Housing Material | color steel |
| Certification | CE, RoHS, ISO9001:2008 |
| Capacity | 300 |
| Delivery Time | 10~20 days for full container order |
| Unit Price | US $ 300-650 / set |
| Update Time | 2019-01-23 |
Detail Information
Compact Pressurized Flat Plate Solar Water Heater
Technical Parameters:
    Flat  Plate 

 Solar Collector

 Spec. (mm)

  2000*1060*70    2000*1060*80    2000*1060*90

 Cover Glass

  Tempered/ Texture tempered / Texture tempered low-iron glass

 Coating

  Anodic oxide/ Selective coating / Black Chrome/ Blue Tinox

 Core

  All red copper core & pipes

 Insulation

  High-density glass wool and polyurethane foam

   Pressurized

   Water tank

 Capacity

  100L/ 120L/ 150L/ 200L/ 250L/ 300L/ 400L/ 500L

 Inner tank

   Food-grade stainless steel SUS304-2B

 Insulation

   High-density polyurethane integrated foam-forming layer

 Tank shell

    Stainless steel SUS304-BA

     Bracket

 Spec.(mm)

  1.2 ~ 2.0mm in thickness

 Material

   Hot-dip galvanized steel / Stainless steel / Aluminium alloy

Optional device

 Intelligent controller, Thermostat electrical heater, Anode magnesium, T&P relief valve

    Pressure

 6.0 bar

    Tilt angle

 25°~ 50°

  Water output

 45~95oC
Features description:
INLIGHT pressurized flat plate solar water heater composes of pressurized flat plate solar collector, pressurized storage tank, supporting bracket and interconnecting pipeline and valves. 
Flat Plate Solar Collector:
1) Copper core absorber and pipes in flat plate as heat exchanger, with a quick startup and super efficiency.
2) Four high-tech methods of coating (Anode oxide/ Selective coating / Black chrome / Titanium-Nitride-Oxide) to meet your different requirements
3) Ultrasonic technology ensures seamless jointing of copper core and pipes
4) Modularized collector, arbitrary combination with architectural structure, adaptable to either slope or flat roof, little maintenance needed
Pressurized Water Tank
1) Inner water tank: Food-grade stainless steel SUS304-2B as inner tank keeps the water clean and drinkable, automatic argon-arc welding technics ensures long lifespan (more than 30 years) with good pressure bearing.
2) Water tank shell: Color steel plate much durable and appealing. Stainless steel shell makes it a choice for higher requirements.
3) Insulation Layer: Germany-imported polyurethane integrated foam-forming with twice slaking treatment, preserves hot water constantly
4) Pressurized water tank with super hydraulic bearing pressure makes your life more comfortable
5) Copper coil could be installed inside water tank for twice hear exchange efficiently, one more copper coil installed could be connected with radiator or other devices for house heating or connected with other heating devices such as gas to assist solar water heating.
Supporting bracket:
INLIGHT supporting bracket are specially designed for flat plate solar water heater which can be adaptable to different roof structures. It is make of strong hot-dip galvanized steel plate with a super weight bearing and wind resistance design (140 km/hr), painting or baking process ensures a super mechanical performance and corrosion resistance
Accessories:
1)  Electrical heater, as an auxiliary heating element in case of raining or snowing so as to supply hot water continuously
2)  Magnesium rods, soften hard water so as to protect system from water scale effectively
3) Intelligent controller, automatically controls water refill and startup of auxiliary heating device, more intelligent system operation
4) T/P relief valve: Also called safty valve for protection of storage tank from excess water pressure
Warranty: 3 years international responsibility for integrated system and 10 years for flat plate due to original quality problems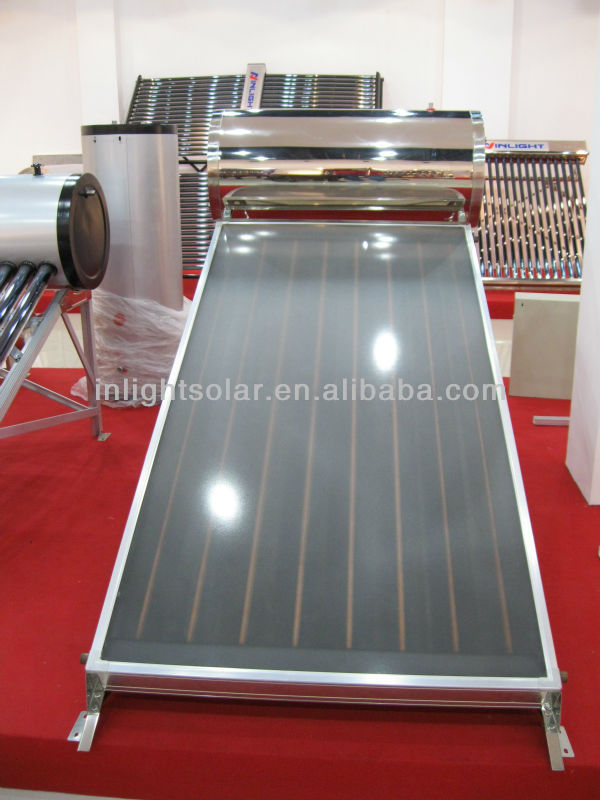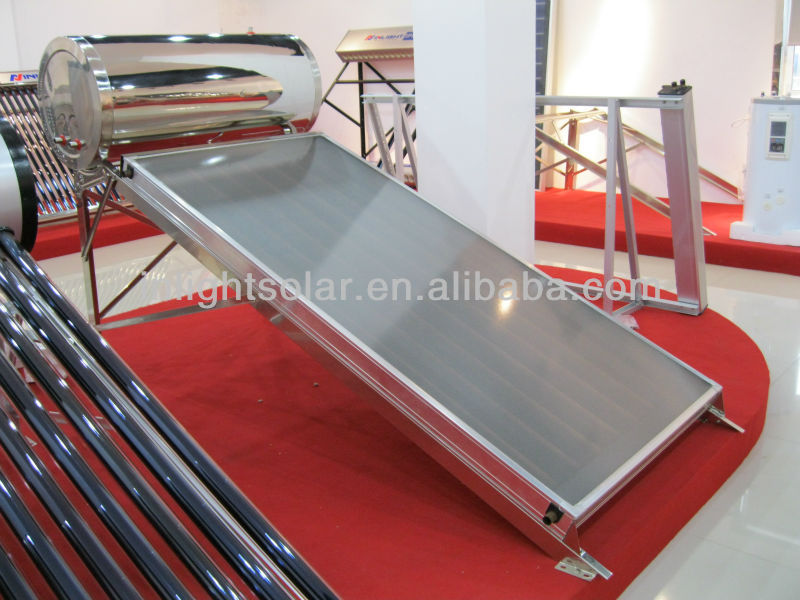 Please send your message to us
*We will reply your inquiry to this Email as soon as we see it